It is proven
COVID-19 virus Spreads Through Surfaces
The pandemic continues to disturb everyday lives worldwide. In India, there is a surge in confirmed cases due to the second wave of the virus. Hence, the graph is still on an upward trajectory. As of August 2021, the virus had infected more than 3.5 lac people in India, resulting in high casualties.
The transmission of this deadly virus occurs both ways - through direct contact with the infected people and indirect contact with the contaminated surfaces. Studies indicate that the novel coronavirus that causes COVID-19 remains active for several hours to days on surfaces and in aerosols.
Besides this, a New Disorder is Emerging From this COVID-19 Pandemic. Anxiety during the pandemic is normal and expected. However, when it becomes a severe condition, it is of utmost worry!
Coronaphobia is a new type of concern specific to COVID-19. Researchers have defined coronaphobia as an excessive triggered response of fear of contracting COVID-19, followed by extreme concern over physiological symptoms.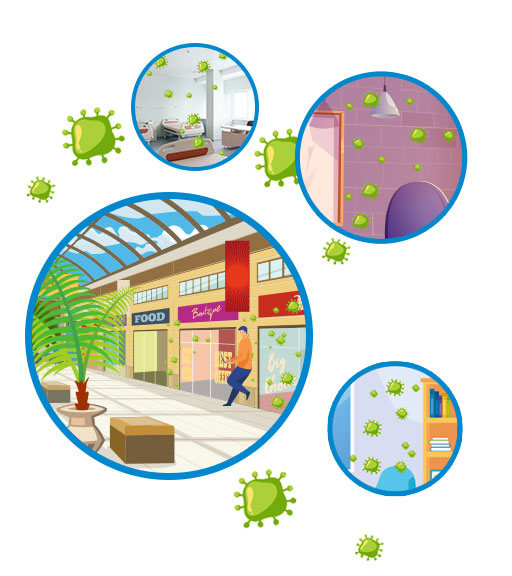 Aludecor Introduces
Vi-SECURE – Anti-Microbial ACP Sheets
Since the onset of the pandemic, Aludecor thought of developing a product that would eliminate the risk of touching surfaces and getting infected. Aludecor turned to its Research & Development team to develop a coating solution to address the primary customer worry during these times. The R&D team took up the challenge, worked tirelessly, and finally innovated Vi-SECURE, a revolutionary antimicrobial solution in this hour of need! The best part is, an ICMR-approved laboratory duly tested the product under the Ministry of Home Affairs, Govt. of India.
With its highly advanced Silver Ion Technology, Vi-SECURE effectively prevents replication of Coronavirus, other viruses and harmful bacteria and kills 99.99% of them.

Non toxic coating
The ACPs are manufactured with non-toxic coating materials that make them completely safe for human touch and use.

Interior applications
These ACPs are highly effective and can be used as a finish for almost all types of interior applications.

Valid for a lifetime
This technology is effected through out the lifetime of the ACP, since the technology is embedded in the coating matrix, unless the surface itself is physically or chemically harmed.

Tested by the best
Aludecor Vi-SECURE has been tested by The National Forensic Sciences University, an Institution of National importance, under the Ministry of Home Affairs, Govt. of India.

Gentle on human
The surfaces treated with this technology will kill more than 99.99% microbes, yet is safe to touch & use, being made with non-hazardous & toxic raw materials.

Minimal Sanitization
The added antiviral properties save the trouble of sanitizing the claddings ever so frequently.
Vi-Secure
Ensures a microbe & Corona-free environment
Adding new dimensions in health & safety, Vi-SECURE is also available in FireWall Class 0, Class B and Class A2 grades.
Aludecor Brand Milestones
More than 127344 Buildings have been adorned with Aludecor Aluminium Composite Panels till date! Won the trust of Half-a-Million Happy Customers!
India's most innovative ACP company.
17+ years of meticulous experience & thought leadership.
Pioneer in the Indian ACP Manufacturing Industry
Presence in 250+ cities
500+ strong retail network
A Truly Made In India company
A Green Company