About Us
A pioneer in the world of Aluminium Composite Panels, Aludecor Lamination Private Limited has come a long way since inception in 2002.
Read More
3D Façade
Innovation by Aludecor
Our latest endeavour features mesmerizing 3D Façade installation that breathes a new perspective into your Dream Projects. Fresh and alive, 3D façade installations are the muse of contemporary Architects, Façade Technicians and Interiors Designers. You can opt for these intricately sculpted 3D designs, with Aludecor Systems - a technologically advanced setup that facilitates futuristic Façade. Explore beautiful 3D Designs today!
Read More
Download Now
Range of Products
At the forefront of our product offerings are our premium ACP panels. Renowned for their exceptional durability, versatility, and aesthetic appeal, our ACP panels are engineered to elevate your architectural designs to new heights. Crafted with precision, our ACP panels offer unparalleled strength and sustainability when combined with Rainscreen Cladding Systems or Aludecor Systems, making them ideal for a wide range of applications.
Featured products
Aludecor stands for sustainable construction quality and the highest creative standards by being high-grade, sturdy, and distinct in appearance. The façade material is distinguished by its exceptional product features, which include exact flatness, a wide range of surfaces and colours, and good formability
Latest Shades
Experience the versatility and durability that Aludecor brings to every project. Elevate your space with our latest shades in aluminium panels.
Feature Projects
Our strength is customer satisfaction, and architects love us for our design friendliness, quick installation, and low maintenance. We've done it everything, from corporate to commercial, residential to educational. Here's a sample of some of our classic designs.
Customer Services
Questions? We are happy to help
Connect with us to get new perspectives in Facade Technology and Metal Composite Cladding.
Testimonials
Amit Bhat
Architect
Clients Testimonials
Here's What Other People Are Saying About Us
We had specific colour requirements (for Address Commercial, Pune) including wood finish etc. No other company apart from Aludecor could give those colours.
Ajith ES
Consultant Engineer, Ajith Designs
Clients Testimonials
Here's What Other People Are Saying About Us
The wood texture of yours is something special. We were supposed to use a different material but one of your representatives came to me and showed your wood finish ACP. We thought that it would suit our building (Zamra International Convention & Exhibition Centre, Kochi)
Dr. Sagar and Tanvi Hirani
Dentalign
Clients Testimonials
Here's What Other People Are Saying About Us
We have used the Aludecor sheet which enhances the look of the clinic. We have also used different kinds of laminates, veneers etc. only to complement the Aludecor sheets which form the main element of the design. Aludecor's sand series has given that wow factor. It's good in maintenance and easy to apply as well.
Kartik Mehra
Architect, Vinod Mehra & Associates
Clients Testimonials
Here's What Other People Are Saying About Us
The Rustic Series of Aludecor was selected because it's very pastel. It speaks for itself. It has a certain texture to it. (On using the product in 1Aerocity project in Mumbai)
MM Kabra
Director, Aluwind Architectural
Clients Testimonials
Here's What Other People Are Saying About Us
It's very good that you people have come up with wood and sand finishes. They have PVDF coating too. Moreover, they are lightweight and maintenance-free.
Riddhish Kataria
Interior Designer, Associated Architects
Clients Testimonials
Here's What Other People Are Saying About Us
I have really liked your sand series a lot. It fits some of my concepts.
Deepakk Bhatija
Senior Associate, Vijay Punjabi Consultants
Clients Testimonials
Here's What Other People Are Saying About Us
We look to use products which are very close to natural products. Your timber series is a good innovation. The latest shades you have come up with are very close to real timber. Your Sand Series is something very different which we never expected to see on ACP. It's very good.
Parin Shah
Architect
Clients Testimonials
Here's What Other People Are Saying About Us
The sand and wood finishes have that sophistication which a lot of flashy things available in the market don't have. I really like them. It can be extensively used, even in residential buildings.
Mitesh Bhagat
Director, Kevin Infrastructure Works
Clients Testimonials
Here's What Other People Are Saying About Us
The modern trend is to keep things sober and simple. This sand series of yours fits that criterion.
Hemant Y Lele
Architect & Interior Designer, Perceptions
Clients Testimonials
Here's What Other People Are Saying About Us
I am very happy to see the Rustic series. This type of matte finish is the requirement of the industry. As an architect, I can now use a combination of glossy and matte. Also, using too much of real timber is not good for the environment. So it's good that you have come up with timber finishes.
Reasons to Choose Aludecor

Available in 300+ Shades
Aludecor offers an array of colours, finishes, designs and textures to adorn the interiors and exteriors of living spaces. Our ACPs reflect the latest trends and colour schemes that are enriched with the essence of the most talked-about architectural influences.

Lead-Free Paints
Aludecor strongly supports the usage of Lead-free paints to coat ACP sheets. This protects you and your family from the harmful effects of carcinogenic Lead paint-related risks such as increased chances of nervous system damage and renal failure.

Highest Gloss Retention
Aludecor uses PVDF resin of Kynar 500/ Heyner 5000 in a 70:30 PVDF and Acrylic Resin ratio. The paint is then applied with the help of the Steel Applicator Roll that works towards perfect coating. This results in a brilliant surface finish and impressive gloss retention.

Weather Proof Performance
Aludecor's state of the art, fully automated production units roll out ACP sheets that stand the test of time. Stringent quality checks adhere to the International Standards and assure only the best products to be available in the market, which beat even the most extreme weather conditions.

Superior Flexibility
At Aludecor, we use ace quality Aluminium coils that are treated by the Direct Chill (DC) process. Minimizing the risk of cracks, our ACPs also showcase the best flexibility, workability and elongation property.

Zero Undulation
Aludecor Aluminium Composite Panels, owing to their almost zero undulation attribute,ensure smooth surfaces of facades and enhanced aesthetics of building architecture.

Pioneer of the Double Coat Double Bake Line in India
The inception of the Double Coat Double Bake Line in 2006 has placed Aludecor as a pioneer in the ACP industry. This method ensures zero elongation cracks on primer and paint surface by resulting in better bonding and increased longevity even under the most extreme weather conditions.

A2 Grade Fire Retardant ACP Sheets
Firewall A2- Aludecor's premium range of fire retardant ACP sheets are enriched with 90% halogen-free, inorganic material that produces water vapour when it heats up. Additionally, it eliminates molten droplets and toxic fumes to keep your loved ones safe and secure.

Eco-Friendly ACP Sheets
Easily recyclable ACPs from Aludecor allow buildings to get qualified for LEED Credits MR 4.1, MR 4.2 and ID 1.1 to 1.4. Besides, Aludecor is equipped with Effluent Treatment Plants that treat the discharged water to be free of any contaminant. Aludecor supports the Coil Coating method, which is known to be an environment-friendly method of coating aluminium panels.
Our Achievements
0
Projects Beautified

0
Our happy customers

0
Sq. Ft. of ACP sheets. Every minutes we sell

Aludecor Cares
Passionate about Community Building
Aludecor Cares- the CSR wing of Aludecor thrives on giving back to the society in the most holistic ways possible. We believe in shaping the future of others in order to enrich their experiences in the most humane ways possible. Aludecor also aligns its values with Ecological consciousness to ensure a sustainable future for the generations to come. Spreading joy and happiness means the world to us- because we care.
Learn More
Play Video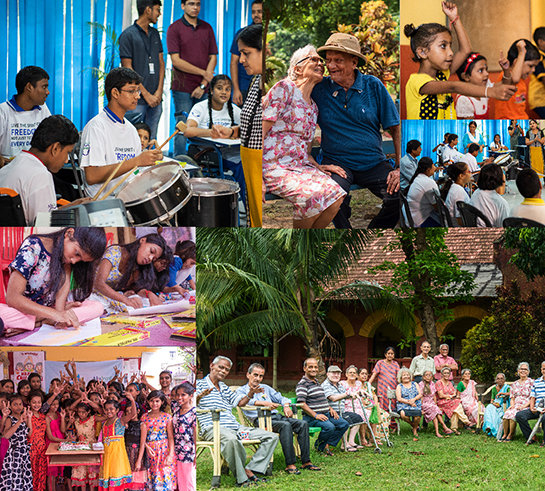 Leading with Leaders