What is ACP Sheet?
ACP sheet or Aluminium Composite Panel is a new-age cladding material that's used for building front elevation (facades), interiors, signage, modular kitchen and many more. It is available in a wide range of colours and textures like wood, stone, sand, 3D etc. And it can be bent, folded and turned into shapes that can't be achieved by any other material. Hence, it allows more ACP sheet design liberty and is thus a designer's delight.
The Inside Story
The top and the bottom layers of ACP sheets are of coated aluminium sheets and the core sandwiched between them is polyethylene.
Protection Film
PVDF/Polyester Resin Based Coating
Primer Coating (used in case of PVDF only)
Aluminium Coil
Adhesive Film (Polyolefin)
Polyethylene Core (LDPE)
Adhesive Film (Polyolefin)
Aluminium Coil
Service Coating (Anti-corrosive)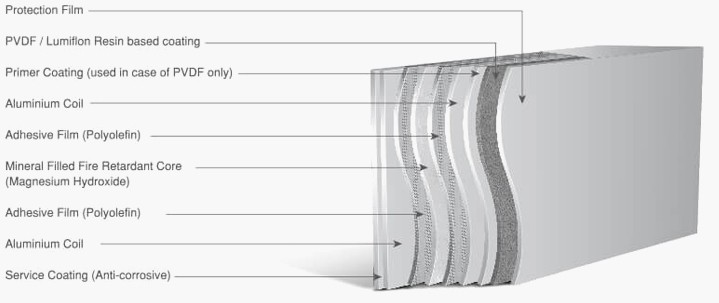 Why Choose ACP Sheet?
No material is as flexible as ACP sheet, and it can give birth to designs that is either too difficult or impossible with other cladding materials. This modern cladding material comes with a host of practical and technical advantages over traditional and other materials. It's lightweight. It's delightfully flexible and easy to work with. ACP sheet is easy to install and can be installed real fast. It's durable, easy to maintain and cost-effective. ACP sheet is easy to install and can be installed real fast. It's durable, easy to maintain and cost-effective. The affordability of ACP sheet price is one of the major deciding factors for architects and fabricators. Additionally, it also offers a wider variety of colours and textures.
Table for ACP Sheet Sizes and Thickness with Application areas
| Features | Applicable to ACP Sheet? | Applicable to HPL? | Applicable to Stone? |
| --- | --- | --- | --- |
| Chemical resistant | Yes | No | No |
| Easy to Install | Yes | Yes | Yes |
| UV Resistant | Yes | No | No |
| Easily bent, folded and turned | Yes | No | Yes |
| Recyclable | Yes | No | NO |
| Borer, termite and fungi resistant | Yes | No | Yes |
What are the different ACP sheet sizes and thicknesses?
The standard ACP sheet sizes include 8×4 feet or 2440mm x 1220mm, 10×4 feet or 3050mm x 1220mm, and 12×4 feet or 3660mm x 1220mm. Additionally, ACP sheets come in different thicknesses, ranging from 6mm, 4mm, to 3mm panels. These thicknesses depend on factors such as the thickness of the aluminium coil or skin (ranging from 0.12mm to 0.5mm) and the LDPE or Mineral core (ranging from 2.4mm to 5.5mm). These variations in thickness contribute to different grades of ACP sheets. For most applications, including exterior ACP cladding, interior decoration, signage, and more, the commonly used thicknesses are 3mm and 4mm.
Table for ACP Sheet Sizes and Thickness with Application areas
| ACP Sheet Sizes | Aluminium Coil Thickness | Thickness of LDPE or Mineral Core | Available Grades | Application Areas |
| --- | --- | --- | --- | --- |
| 4mm ACP Sheet | 0.5 mm | 3.00 mm | AL-45 | Exterior |
| 4mm ACP sheet | 0.25 mm | 3.5 mm | AL-43 | Exterior |
| 3mm ACP sheet | 0.25 mm | 2.5 mm | AL-33 | Exterior & Interior |
| 3mm ACP Sheet | 0.3 mm (Aluminium Grade: AA3105) | 2.4 mm | AL-33D | Exterior (esp. For Fascia and Signage) |
| 3mm ACP Sheet | 0.20 mm | 2.6 mm | AL-32 | Interior |
| 3mm ACP Sheet | 0.12 mm | 2.76 mm | AL-312 | Interior |
| 6mm ACP sheet | 0.25 mm | 5.5 mm | AL-63 | Exterior & Interior |
How does ACP sheet thickness influence the selection of the application areas?
When it comes to selecting the right ACP sheet thickness for different application areas, Aludecor understands the critical role it plays. The thickness of ACP sheets directly influences their suitability for specific projects, particularly in relation to wind load. Thicker ACP sheets, ranging from 3mm to 6mm, provide enhanced structural integrity and durability, making them an excellent choice for areas with higher wind loads, such as high-rise buildings or locations exposed to strong winds.
These sheets offer superior strength and can withstand the forces exerted by wind, ensuring the longevity and stability of the cladding or façade system. On the other hand, thinner ACP sheets, typically 3mm, are lighter and more suitable for applications like signage, display boards, and interior design, where wind load considerations may be relatively lower. Aludecor's range of ACP sheets offers various ACP sheet thickness options to cater to different project requirements, providing optimal performance and peace of mind in terms of wind load resilience.
Download E-catalogues
ACP Sheet as a Cladding Material
Aludecor is a brand that is synonymous with innovation. It has given the industry the only Sand Finish ACP sheet in the world, the first Rustic Finish and 3D finish ACP sheet in India, and a host of other finishes and textures.
Aludecor ACP sheet is today not only used for building exteriors like façade, canopy, and fascia but for a plethora of interior applications as well like interior wall cladding, false ceiling, modular kitchen, wardrobe, tabletop, you name it. In the corporate sector, Aludecor ACP sheet is today one of the most preferred cladding materials for classy and innovative signage, fascia and other corporate identity design solutions.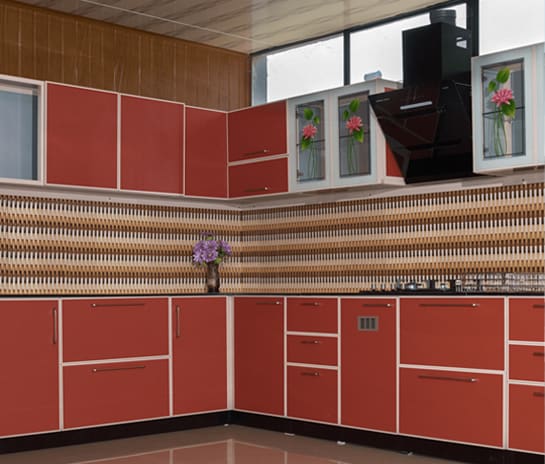 ACP Sheet Advantages
It can bend, fold and turn easily
No crack risk
Flatness
Available in a wide range of colours and finishes like wood, stone, mirror,
sand, and 3D
Lightweight
Provide insulation to buildings
Borer, termite, and fungi resistant
Available in 6mm, 4mm, and 3mm thicknesses
Can be made fire retardant
Have antimicrobial properties
UV ray resistant
Environment-friendly as it is lead-free material
Fully recyclable
Withstands extreme weather conditions
Easy to clean
Easy to perforate
ACP Sheet Applications
Exterior Cladding: Exterior ACP sheets are a popular choice for building cladding, as they are often used for façades, canopies, overhangs, soffits, and other exterior applications. The material's lightweight and durable properties make it an excellent option for covering vast areas and achieving a contemporary, streamlined appearance.
Interior Cladding: Interior ACP sheets are a versatile material that finds use in a variety of interior cladding applications, such as partitions, false ceilings, cupboards, table tops, wall panels, column covers, and more. With a vast range of colors and finishes provided by Aludecor, the creative design possibilities are endless.
Signage and Advertising: ACP sheets are popular for use in outdoor signage, kiosks, totems, POPs, fascia and advertising etc., due to their weather resistance and durability.
Furniture and Cabinets: ACP sheets can also be used for furniture such as modular kitchens and cabinet design, as they are easy to shape and cut. ACP sheets are available in a variety of textures and finishes that can be used for custom furniture design.
Transportation: ACP sheets can be used in transportation applications, such as ACP cladding for bus bodies, trains, Metro rails, and other vehicles.
Industrial Applications: ACP sheets are also used in industrial applications, including machine covers, paneling, and enclosures.
In the realm of ACP sheet manufacturing, Aludecor stands out with its diverse offerings. Apart from the standard array featuring solid and metallic hues, Aludecor, a prominent ACP sheet manufacturer, proudly presents an expanding spectrum of exclusive series including Wabi Sabi, Sand-finish, Rustic, Cortina, and Wood-finish ACP sheets, and more.
Frequently Asked Questions
What is ACP Cladding?
ACP cladding, also known as Aluminium Composite Panel cladding, is a popular architectural material used to enhance buildings' aesthetics and functionality. It consists of two aluminium sheets bonded to a core material, typically made of polyethylene (PE) or fire-retardant (FR) mineral-filled materials. ACP cladding offers various colors, finishes, and textures, making it a versatile choice for exterior and interior applications in residential, commercial, and industrial buildings.
What is the difference between ACP and aluminium cladding?
While ACP cladding and Aluminium cladding share similarities, there are notable differences between the two. ACP cladding refers to the specific type of cladding made of Aluminium composite panels, which consist of Aluminium sheets sandwiched to a core material. On the other hand, Aluminium cladding is a broader term encompassing any cladding system that utilizes Aluminium as the primary material. The main difference lies in their construction. ACP cladding consists of multiple layers, including Aluminium sheets and a core material, providing enhanced durability, insulation, and fire resistance. On the other hand, aluminium cladding can refer to single-layer Aluminium panels or systems that use Aluminium as a facade material without the composite panels structure.
Can ACP be used in the kitchen?
The answer is Yes, ACP cladding can be used in the kitchen to enhance its visual appeal and provide functional benefits such as cupboards and drawers. However, it is crucial to consider certain factors before using ACP panels in the kitchen environment. Choose ACP cladding with a fire-resistant (FR) core material to ensure compliance with safety regulations and minimize fire hazards. Additionally, the ACP panels can have a non-toxic anti-microbial and anti-insect coating that prevents harmful microbes and insects that spread diseases. Moreover, it is advisable to consult with the experts of Support team to understand guidelines and consider factors like heat resistance and cleaning requirements.
How long does Aluminium cladding last?
Aluminium cladding is known for its exceptional durability and longevity. When properly installed and maintained, Aluminium cladding can last for decades. The lifespan of Aluminium cladding primarily depends on factors such as the quality of the material, the paint, the installation technique, the environmental conditions, and the level of maintenance. High-quality Aluminium cladding, with professional installation and regular upkeep, can endure 15 to 20 years or even longer. It is worth noting that periodic inspections, cleaning, and addressing any signs of damage or corrosion can significantly extend the lifespan of Aluminium cladding.
Is Aluminium cladding waterproof?
Aluminium cladding is not inherently waterproof; however, properly installed and sealed can provide effective water resistance. The waterproofing ability of Aluminium cladding depends on the installation method, the quality of the sealants used, and the attention to detail during the installation process. To ensure proper water resistance, employing skilled professionals with experience in Aluminium cladding installation is essential. They can utilize appropriate sealants and techniques to create a watertight barrier between the cladding panels, preventing water infiltration and potential damage to the building structure. Regular maintenance, including inspection of seals and addressing any gaps or deteriorations, is also important to maintain the waterproofing integrity of Aluminium cladding over time.