Discover Outstanding Performance with the Top ACP Sheet Manufacturer in India
Discover Aludecor, a premier ACP sheet manufacturer in India, dedicated to crafting premium composite panels in a variety of dimensions, gauges, and textures. Our cutting-edge methodologies and ingenious components culminate in producing top-tier ACP panels. Delve deeper into the world of superior craftsmanship and innovation.
Composite Panels Manufacturer in India
Aludecor always strives to create a connection between society, the economy, and the environment. As one of the top composite sheet manufacturers, it keeps up with compliance to promote responsible growth whenever possible. Aludecor aspires to be a company that people are happy to work for.
One of the core topics of modern-day construction is the "skin of architecture"; and given the plethora of choices in facades, finding the right sync among functional, exciting, and aesthetics can be a challenging lookout.
With the expansive range of composite sheets from Aludecor, one of the premium ACP sheet manufacturers of India, we are committed to providing you with an impressive selection of high-end Aluminium Composite Panels. If you are looking for a trusted ACP sheet supplier in Delhi, you know what to look for!
Whether it is for residential or commercial properties, the right kind of cladding helps to add a contemporary elegance to the building. Aludecor, one of the best ACP sheet manufacturers in India, can help you with the premium quality ACPs while assisting in creating a beautiful architectural design.
Discover the Technology and Expertise Behind our Superior Composite Sheets
When you have to select a model ACP for the facia of any building, it is only natural to scout through the top 10 ACP sheet brands in India. However, as you will get to know the manufacturing details of Aludecor ACP panels, it will bring out a clearer picture of why it is one of the best Aluminium composite panel manufacturers in India.

Pre-treatment Lines
The PT line ensures the removal of oil and other impurities from the raw coil. It is passed through a series of 8 tanks which are subjected to alkaline-based Henkel chemicals. Aludecor uses top-of-the-class products for degreasing, deoxidizing and chromatizing the Aluminium coil.
Double Coat Double bake
It is a continuous coil coating process (CCP) that ensures better bonding of primer and paint surface which in turn guarantees high gloss retention. We follow the stringent ECCA and AAMA guidelines for coating Aluminium, providing better peel strength and the best results from the coated surface, surpassing customers' expectations. As the premium ACP sheet exporter from India, this process helps us retain the premium quality that justifies its worth.

Palletizing Lines (FR/Non-FR)
Production lines are broadly categorized into FR and non-FR. We are the only ACP sheet manufacturer in India that have an in-house palletizing unit - for both FR as well as the mineral core. And, we have a production capacity of around 6000 MT per annum.
(Aludecor FireWall is process certified for Reaction to Fire as per EN 13501-1, Class A2-s1, d0 ClassB-s1, d0 and DIN 4102 Class B1)

World-class Lamination Lines
There are five lamination lines in Aludecor across all its units. Aludecor is the only acp sheet manufacturer in India that produces its own fire-rated cores as well as regular LDPE cores for aluminium composite panels, zinc composite panels, and copper composite panels.

Super-skilled R&D Team
Our facility has highly skilled and experienced minds who constantly strive to improve the products. Experts at Aludecor are regularly involved in researching, developing and implementing the global standards that can make the MCPs stand out. For being the most trusted brand for ACP sheet Exporter from India, we have to follow certain guidelines that abide by international production standards.
(Aludecor FireWall is process certified for Reaction to Fire as per EN 13501-1, Class A2-s1, d0 ClassB-s1, d0 and DIN 4102 Class B1)

Inhouse Testing Lab
Aludecor is proud to be one of the pioneers of ACP sheet manufacturers in India to have its own and most advanced inhouse testing lab. You can find fully equipped mechanical, fire and physical testing equipment that works to deliver the finest product in the ACP market. Right from checking the best quality raw materials to finished products, there are 201 different tests of various categories that define the backbone of our quality products.
We are the only ACP sheet manufacturing brand in India that has its own fire testing lab.
Our Facilities
We are an SAP-enabled brand which is why all our coordinates and applications work seamlessly. Through transparent protection to delivery supply chain management, we are powered by the latest SAP technology. Our extensive architecture and flexible customization options help us to meet specific business needs.
We have installed the ETP plant in Unit I and Unit II. Being a strong follower of sustainable practices, our Effluent treatment plant cleans the industrial effluents right from the PT line through vigorous filtration, neutralisation, and purification, where we separate the solid and the liquid wastes. The liquid is then treated through reverse osmosis, where its pH and total solute dissolve balance is suggested by Pollution Control Board. The reclaimed water is then used for other purposes, such as gardening, lavatories etc. As water is one of the biggest natural resources, water management is one of the highest priorities. We follow steps for optimum management of water with ETP.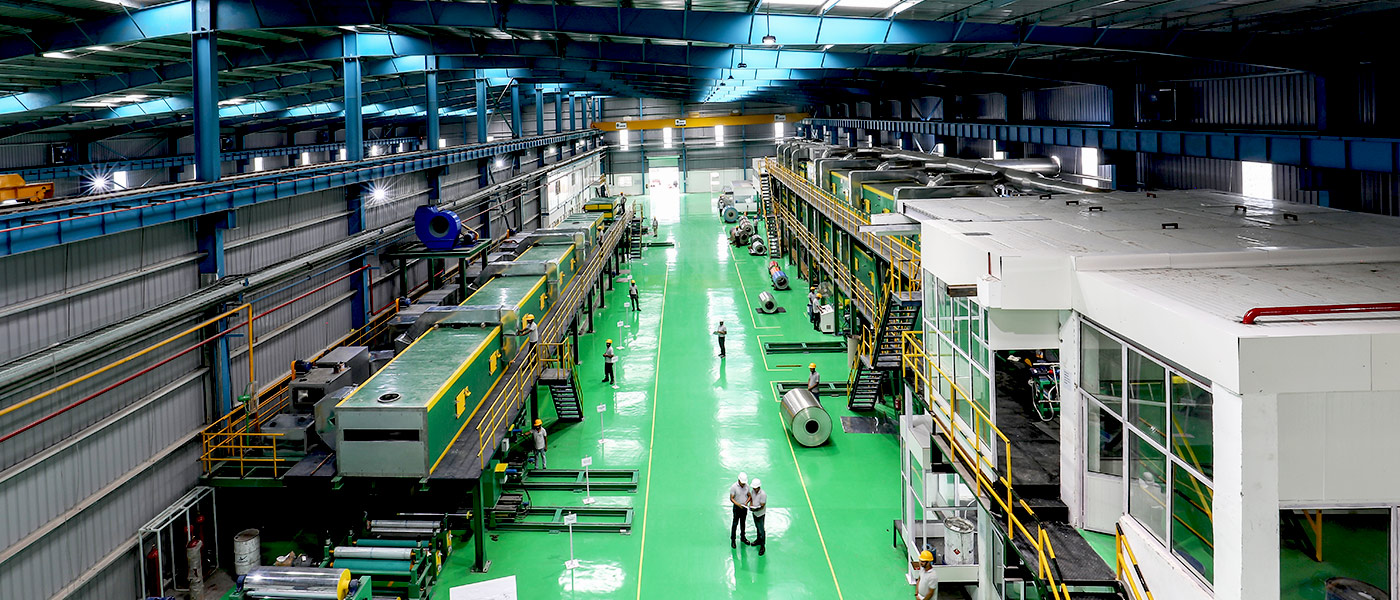 Shop Floor of CCL-2 CCL3 in Unit-3 in Haridwar
Did you know-
We also have a lab-sized production line, called the 'Baby Line' - again a first of its kind in India - which is used for testing all batches before they are released for final production.
Quality Control & Assurance
As one of the top Aluminium Composite Panel manufacturers in India, Aludecor believes that quality is paramount. Also, to sustain itself as one of the top 10 ACP sheet brands in India, maintaining quality is imperative. We have our own facilities to manufacture and test the quality of these ACP sheets.
The quality procedure is divided into four types
Raw material testing
Product based
Product based
Post production (before dispatch)
All these four steps are further divided into many steps which conform to the global standards.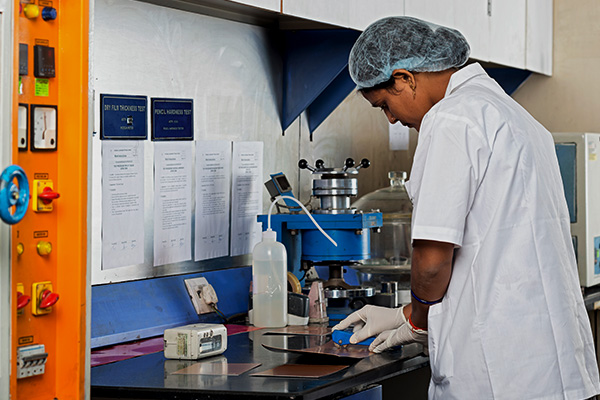 Cross Hatch & Impact Test done at our Inhouse Testing Laboratory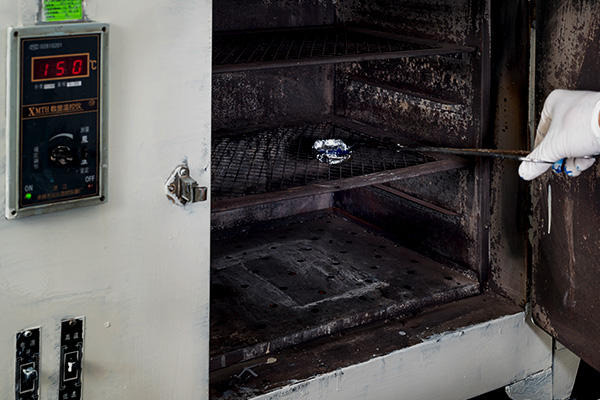 NVM Content of Paint Testing in our Testing Laboratory
Some of the main tests are as follows -
Mechanical Testing - UTM & Drum Peel Testing for high tensile strength and elongation. ACP panels can withstand extreme weather condition & wind loads
Paint Testing - It involves checking the chemical resistance, peel strength, and longevity properties of the paint (through 21 Enhanced Tests).
Accelerated Weather Testing - This is a part of Paint testing. It is checked by exposing it to simulated extreme weather conditions; undergoes pre-testing which ensures high standards of paint, thus outperforming the warranty period and retaining aesthetic value
Salt Spray Testing - This is also a part of paint testing, which ensures whether it can be applied in the coastal regions.
FR Testing - All the FR grade ACP batches produced are tested for flammability, ignitability, smoke developed, limiting oxygen index, molten droplets and heat release at our NABL Calibrated Lab. These tests give an assurance of the quality of the core type in compliance with the global standards/codes for fire.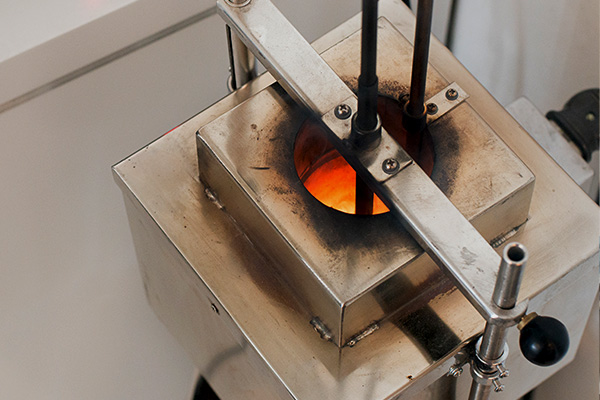 Non-Combustibility Test done for our FireWall ACP sheets
Some of the other tests include
Manufacturing process
The entire manufacturing process is broadly divided into three groups - Pre-treatment, coating and lamination.
Pre-Treatment Process: The Composite Sheet production starts with the pre-treatment of the Aluminium Coil. This process involves:

Removing the oil and all the impurities
Removing all the oxidizing prone agents
Chroming for better adhesion with Coat and LDPE

Continuous Coil Coating: After pre-treatment of Aluminium coils, it is sent to Double Coat Double Bake Process for Coating it with the required type of paint. For Polyester, it is a single coat of 15-18 microns. For SDP, it is a double coat of 25-28 microns. For Special series made from SDP, it is sometimes a triple coat of 30-35 microns. For PVDF and FEVE, there can be a second and third coat of protective layer to increase the warranty. We have the capacity of coating 21000 MT Aluminium coils annually.
Lamination Line: Here, we get the pre-coated coils and laminate it with the core. The core may be FR or LDPE as per requirement. We can produce 3mm, 4mm and 6mm thick Aluminium composite panels. We can produce 6 million square meters of ACP from our 5 lamination lines. The steel rollers used in lamination lines are to provide the best flatness to our composite panels. Finally, a protective film is attached on the top of the composite panels to save it from scratches during transportation and storage. This protective film has to be removed within 45 days of installation of panels.
FAQs
Does ACP sheet rust?
The top layer of the composite sheet is coated with the specified paint in accordance to the specification provided by the customer. This paint prevents the corrosion or oxidation of Aluminium. The other components of the composite panels do not oxidize or corrode.
Can ACP board be perforated?
Yes, ACP boards can be perforated, allowing for applications such as ventilation, acoustic control, visual appeal, signage and wayfinding, and privacy screens. Perforated ACP boards enable airflow, making them suitable for areas requiring ventilation while also offering aesthetic customization with patterns or designs. They can absorb or diffuse sound waves, making them useful for noise reduction in environments like concert halls. Perforated ACP boards can also be used for visually appealing signage and wayfinding solutions, and they provide privacy while allowing light transmission when used as screens or partitions.
What is CNC cut design?
CNC cut design refers to the process of utilizing a Computer Numerical Control (CNC) machine to precisely cut and shape ACP sheets. CNC machines use CAD software to generate precise cutting paths and instructions that are then executed by the machine. The CNC machine uses various cutting tools, such as routers or lasers, to accurately carve out intricate designs, patterns, or shapes on the ACP sheets. This technology allows for highly precise and detailed cutting, enabling the creation of perforated designs, logos, letters, or decorative elements on ACP sheets. CNC cut designs offer versatility, accuracy, and consistency in creating visually appealing and precisely crafted ACP sheet designs.
Are ACP sheets good for roofing?
ACPs are not typically used as a primary roofing material in traditional roofing applications. ACP sheets are commonly used for architectural cladding, signage, and interior design purposes. It's important to choose roofing materials that are specifically engineered and tested for their intended use. If you are considering using ACP sheets for roofing, it is advisable to consult with roofing professionals or engineers who can assess the suitability of ACP sheets for your specific roofing needs and recommend.